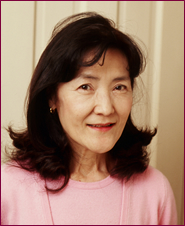 Naomi Yamamoto is a well-respected Japanese sugarcrafter who hasbeen teaching sugarcraft for over 25 years. A wedding cake designer, sugar artist, sugarcraft instructor.
She studied in the USA and the UK and is certified by Brooklands College to teach sugarcraft to a high standard. Naomi taught at the Genteel Academy in Tokyo, sister school to Brooklands College, as an executive instructor for 13 years and now teaches at a technical college in Tokyo as well as overseas. She has demonstrated at the British Sugarcraft Guild's International Exhibition and at Squires Kitchen.
Naomi's creations often appear in Japanese media, including TV, as well as international media such as Wedding Cakes – A Design Source magazine. Her work is elegant, meticulous, shows a high level of creativity and draws recognition not only in Japan but also from enthusiasts worldwide, particularly her beautiful sugar flowers.
Current Status:
- Sugarcraft Instructor of Japan Special School of Confectionery
- Holding many lessons around the world
Participation in Judging Panel:
from 2007 ~ Japan Cake Show Tokyo Sugarcraft Division